Stay up to date with our latest news.
Nov 13, 2020 HAUPPAUGE, N.Y. (GLOBE NEWSWIRE) -- Chembio Diagnostics, Inc. (Nasdaq: CEMI), a leading point-of-care diagnostic company…
Oct 15, 2020: Rapid Test Provides Results in Only 20 Minutes HAUPPAUGE, N.Y., Oct. 15, 2020 (GLOBE…
Oct 2, 2020: First Rapid Test Approved in U.S. to Aid in Diagnosis of Both…
We enable longer and healthier living through detection and monitoring of infectious diseases at the point of care.
Our mission is to be a leader in the development, manufacturing and commercialization of diagnostic solutions. We are dedicated to delivering exceptional point-of-care products that are easy to use, fast and accurate.
Our Core Values: "RAPID"
Learn More
Chembio is a leading point of care diagnostics company focused on detecting and diagnosing infectious diseases.
Our patented DPP® technology platform uses a small drop of blood from the fingertip and provides high-quality, cost-effective results in 15-20 minutes. Our products are sold globally, directly and through distributors, to hospitals, clinics, physician offices, clinical laboratories, public health organizations, government agencies, and consumers.
Learn More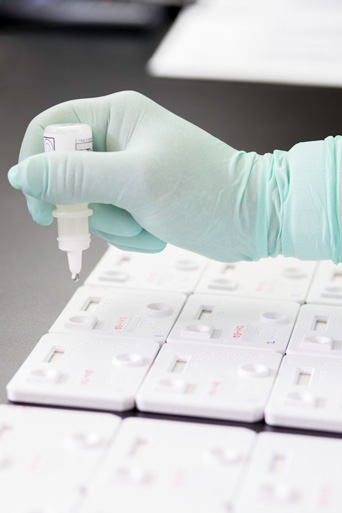 We are looking for talented, dedicated people wishing to contribute to our common vision of enhancing the health and well being of people worldwide.